When I was at San Diego Comic-Con this July, I was on the look out for some new, interesting Chewbacca art. He's actually not the easiest character to portray correctly. I was never able to find anything that I loved (well…Chewbacca wise I mean.) On the last day I made it over to the Chuck Jones Gallery….as evidenced by this purchase: https://a99kitten.com/?p=10450
While there, I also bought another piece. It caught my eye as soon as I walked in but I had been so involved in my purchase of Bad Girls that it took me a while to get over to it. It was not Chewbacca, and I typically don't collect Leia art, but this piece definitely caught my eye: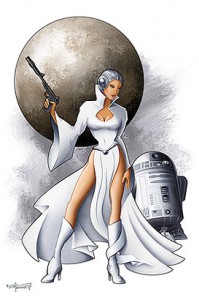 It is a good sized piece – 36″ x 24″ on canvas. It's an artist proof (#3 of 10) and extremely cool in real life :) I'm typically not into the modern or art deco look honestly, but the colors of this just grabbed me. I love the various silvers and greys with white and black (I think another reason I will always have a husky.) My color scheme at home is all browns. Deep, rich browns in various tones. So she doesn't really fit in but it'll work. I have a HUGE bus stop poster of Jango Fett framed from Attack of the Clones (all blues and silvers) so they will work together. As I was discussing this piece with the gallery rep, I asked if the artist had done any Chewbacca art. He said not that he was aware of but he could contact the artist. I had actually JUST missed him that day. Darn! And it turned out he left the gallery and went over to the Acme Archives booth inside SDCC. Doh!
Anyway, turns out that no, he had not any done Chewbacca art but that he always wanted to if it was the right feel. Chewie is hard because a lot of artists portray him too cartoony or goofy. I like the fierce Chewie. So we discussed him doing a commission just for me! He would have to get OK by LucasFilm once he did the piece but I was pretty excited!
On a conference call to discuss ideas for the piece, the artist (Mike) asked why I loved Chewbacca so much. That's easy – because he was Han's best friend. And protector. Who was big and strong and scared most people but he was a marshmallow inside…to his people. Just like Angelus and Storm were for me. Angelus even sounded like Chewbacca when he talked. And Chewie's sounds were inspired by George Lucas' malamute Indiana (who looks a lot like Angelus) so it was a perfect mix. Plus we live in Tahoe and the snow and I always called it Hoth when I'd take the buds out in the snow.
Mike loved the story and it turns out he and his wife are big dog lovers. So he appreciated my love of my buds. And how it translated to my love of all things Chewbacca. So I sent him a bunch of pics of the buds as well as my favorites of Chewie so he could get a sense of how I liked them. He obviously would be keeping it in his own style (art deco-ey, modern. See his site linked below) but incorporating the Chewie, Angelus and Storm in the snow.
The finished work arrived (yes, LucasFilm signed off on it!) and I just got it back from the framers. I. Love. It. He captured the expressions of Angelus and Storm perfectly. Like….perfectly. Plus having an original piece of art commissioned just for me is pretty darn nifty. The fact that it incorporates my beloved friends who are no longer with me along with one of my favorite fictional characters brings together 2 things that I have spent a lot of time in my life enjoying.
I look at this all the time and smile. The buds brought me smiles every day while they were with me, so it's only natural they keep doing it.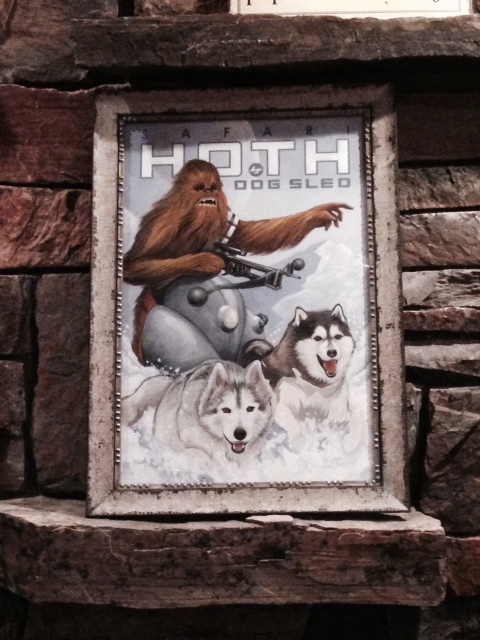 Mike Kungl: http://www.mkungl.com/2/index.php There are **easily** a handful that I would love to hang in my house.