It's cold & snowing outside and my 49ers just lost and got booted out of play-off contention so comfort food is needed. Stat.
First. Put this on.
:)
Then….
Slice up spicy Italian sausage (I used 5)
Slice up some mushrooms (I used a package of mushrooms – 10 oz)
Brown them in some olive oil
Meanwhile, boil some water
Make some pasta – I used a box of Gluten-free, non-GMO Quinoa rotini (yeah…we'll see…)
Once both are done, mix in a baking dish, pour in a jar of sauce (or gravy if you prefer Corleones) and a few handfuls (big giant football player handfuls) of mozzarella. Make sure mixed well and bake at 350 (oh yeah…preheat your oven) for 25 minutes or so. FYI – I used "Rao's Homemade Arrabbiata" sauce to keep with the spicy theme.
Then sprinkle Parmesan on it and bake a few more minutes.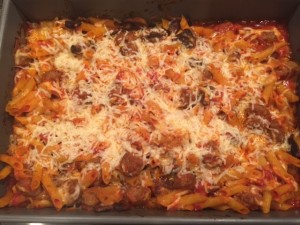 Eat.
Simple.
And if your team lost and you are out of play-off contention, pour a glass of red too :)