Yes, I am one of those annoying CA drivers with a personalized plate. Before I had my doggies, I had a plate that, because I am a bit naive sometimes, I thought was cute but later found out could be construed to mean something else. Doh. Oh well! As soon as I got Angelus, I changed my plate to…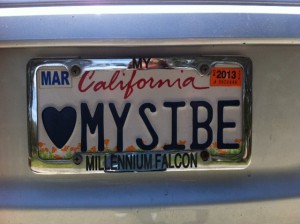 Simple. It was even more self-explanatory on my previous car when the huskies would hang their heads out the windows as they had the entire back seat and back (Jeep Grand Cherokee.)
So last week I was at the beach about to load Storm in the car. Guy parked next to me asks "What does your license plate mean?" As I am about to pick up Storm, my SIBErian husky into the car.  I say it's for Love. My. SIBErian Husky. He still looked confuzzled. OK….
Today, walking to the car with Storm (in same parking lot) and a guy asks me what a sibby (as he pronounced it) is. I say it's SIBE (ya know – long IIIIII or even SYBE I suppose) for Siberian Husky.
He looked a bit confused. Is it that hard to get?
But then another guy sitting on the edge of his truck asks "Who Shot First?" I say "Han" without hesitation. He cracks up laughing and says "you are awesome – no hesitation whatsoever." I add "There should never even be a discussion." He keeps chuckling as Storm and I pull away in our Falcon. At least the plate frame is translatable.
You meet some interesting people at the beach…