I'm always looking for yummy recipes that will work for tailgating. Has to be easily transportable, eaten easily while hanging out and preferably little mess (at least once in the Candlestick parking lot!) Oh! And also very yummy :)
Have never done chicken before. Honestly my go-to is cheeseburgers because cheeseburgers are delicious. Two weeks ago I decided to use the advice from some food guy on Yahoo about cheeseburgers and use 80/20 meat, American cheese and squishy white bread buns (no pretzel bun, ciabatta, etc etc.) Frankly, I've never done that. I always buy 93/7 meat and use cheddar, blue cheese, or some such other yummy cheese. BUT, this guy's point was make the cheeseburger the way it is meant to be made. You don't eat them every day so when you do, make them right. He was right – DELICIOUS!!! I will make them that way for tailgating from now on.
But I digress….I wanted to try chicken this time so went on a search for a tasty chicken recipe. Found this one on the Food Network – Dirty P's Garlic-Ginger Chicken Thighs:
Ingredients
2 pounds skin-on, boneless chicken thighs
1 cup thinly sliced red onion
2 tablespoons minced garlic
2 tablespoons minced peeled ginger
1/4 cup soy sauce
1/4 cup fresh tangerine or orange juice
Freshly ground pepper
Vegetable oil, for the grill
NOW…I changed the recipe to this (for my tastes):
2 pounds skinless, boneless chicken thighs
2 tablespoons minced garlic
2 tablespoons minced peeled ginger (used Gourmet Garden ginger paste found in the produce section)
1/4 cup soy sauce
1/4 cup fresh orange juice (used Odwalla)
Freshly ground pepper
Vegetable oil, for the grill (I used spray on grilling spray stuff…highly technical)
I hate onions (unless deep-fried into rings in which case they are OK especially when dipped in ranch!) so they had to go. And I just can't eat chicken skin unless way deep fried KFC style. So skinless as well as boneless chicken for me…
Directions
Combine the chicken, garlic, ginger, soy sauce, juice and 1 teaspoon pepper in a large resealable plastic bag. Seal and shake to coat the chicken with the marinade. Refrigerate 1 hour or overnight. (I marinated for about 5 hours before cooking.)
Preheat a grill to medium high and oil the grate. Grill the chicken skin-side down until marked, 5 to 6 minutes. Flip and continue to grill until cooked through, about 5 more minutes. (here is where I changed it – since I have skinless chicken cook for 2 minutes on 1 side, flip and 2 more minutes, and then repeat. So cooking for 8 minutes total. BUT, the key was making sure the grill was HOT. In making this at home for a 2nd time my grill was heated to 500 degrees.)
When I went to Safeway to buy chicken for the tailgate, the checkout guy was probably 20 yrs old at most. There was a HUGE notice at checkout about the chicken as there was a recent Foster Farms salmonella scare. When I asked half-jokingly "what do I need to know about this chicken?" he responded "cook your chicken. simple. people don't cook their chicken and then go around blaming other people for their own stupidity. it's not filet mignon people. it's chicken. not supposed to be pink." I left that in all lower case because he said it so fast, and in such a thick country accent, that I had no response other than a heartfelt smile and a "You are completely right." Nice to know there are some people out there that I agree with.
Anyway….I digress…..again….
Let the chicken rest 3-5 minutes before serving.
This was SO good. So, so good. Also – FULLY cooked but not dry. Pay attention people. Yummy. Both at the 49ers tailgate and tonight. Very glad I found the recipe and will use it often! And not just for tailgating :)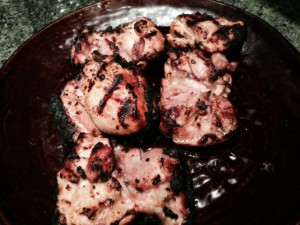 2 Comments