Oh J Crew…I really should just own some of your stock…
Wore these today. Loving them. I have always hated the idea of the "bootie" but have to admit that these are good for cold days when boots are good but your pants don't allow for tall boots. Plus they are a fantastic shade of distressed brown.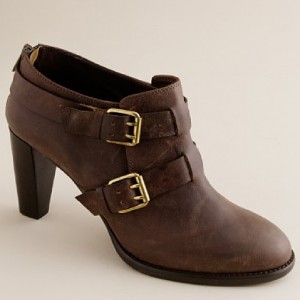 I really want these, and now they are on sale….but when will I wear them…really? Wear with pants and you don't see the coolness of them. But I cannot imagine choosing to wear them with skirts over my various other tall black boots due to their height (mid-calf?). But maybe? With cool tights? Hmmm…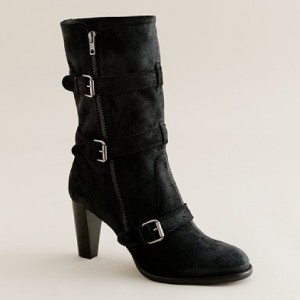 I bought these but sadly had to return them. They looked so perfect in the catalog and could imagine them with a cool pencil skirt and crisp blouse. A bit Emma Peel-ish I thought :) They were gorgeous and the leather was awesome (plus they have a KITTEN heel) but the leather was so soft, they slouched at the ankle – boo. Great style, but needed to be a bit tighter around calf/ankle. Too bad – very cute boots. Anyone with bigger calves could probably make them work.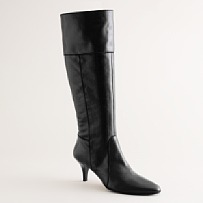 I would still love a pair of high heeled tall boots in a rich, cognac color. But I haven't found any that I love that aren't made in China. I love that J Crew has their shoes/boots made in Italy and NOT China.
So instead of a fantastic pair of cognac boots, I have been investing my money in my stock account. Silly rabbit….although I was up 26% on the year in my stock account (with NO retail stocks…well…not counting TIF) so I think still a fairly decent decision going forward. But maybe a little bit on the boots if I find the right pair :)
2 Comments