Today is the last day of my Christmas vacation. I'm bummed :( Not at the prospect at going back to work. I don't mind work. More at the prospect of leaving my winter wonderland. I love my house here. I love my time here. The huskies love their snow time here. Being here makes me happy.
It's been a fun vacation. Didn't do everything I wanted to but did a lot. Ice skating was high on my list but it's so crowded here for the holidays with tourists, it makes more sense to wait a week or 2.
Leading up to my time off, I was so busy and stressed out to get stuff done that I didn't have time to look forward to my time off! But once I got here, instant decompression. It was a white Christmas which was key for me. Christmas Eve and Day were nice even though husband was sick. Made a yummy ham that we are still eating the leftovers from :) Made some yummy food this vacation – but tooooo terribly unhealthy! The penne with Italian sausage was my favorite I think – numnumnum!
I got some movie watching done which was high on my list too! Watched:
Love Actually (Christmas tradition)
Christmas Story (another tradition)
Die Hard on Christmas morning :)
The Taking of Pelham 123 (Travolta plays such a great bad guy)
Paranormal Activity (boring)
District 9 (good!)
Inglorious Basterds (good!)
I also finished 2 fun books and started another. And even got through one of my past Vanity Fair magazines! I am so behind in my VF reading. Ever since Dominick Dunne stopped writing his column, I don't rush to open them as quickly as I used to. But still some good articles and nice pictures :)
Friends came up for New Year's and we had a fun blue moon shoe hike, 2 fun dinners (1 in and 1 out) and a nice New Year's Eve at 2 mellow neighbor parties and still safely and warmly in bed by 1am :)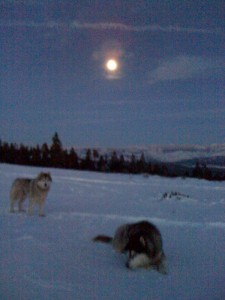 Regular season football is coming to end today. This saddens me too. Even though I got knocked out of fantasy – boo!! I won Survivor and 4 weekly pools so far so can't really complain – fun AND profitable season :) Watched some exciting football games this past 2 weeks for sure (MNF – MIN at CHI was GREAT!) Plus watched the Gators and Tim Tebow dominate in the Sugar Bowl. That was nice :) I would LOVE to see Alabama lose miserably to Texas this week to make that even more fun :)
The most important thing is that I got a LOT of snow play (and exercise!) in with the huskies. That was my main goal :) Every single day we went out for multiple snow walks and hikes. And the weather definitely cooperated. Tons of snow and nice cold weather for the boys. I think this December is one of the best Decembers in recent history for snow. YAY! So hopefully January – March cooperates as well. We walked through our neighborhood pre-plowing so it was deep, we hiked up snow trails, went snowshoeing (well, the huskies don't use shoes!), played in snow piles and dug snow caves. Pretty sure they had a good time! I know I did :)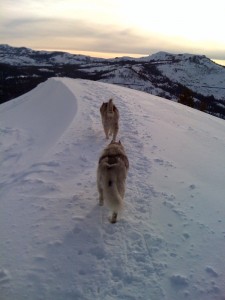 So a nice vacation for sure. And thankfully I get to come back next weekend if I want – hopefully to some fresh snow! :)