So I can't wear high heels for probably another 4-6 weeks. Ugh. My sports doc said "I'll give you the same test that I give my basketball players when they ask me when they can play again." (he is the team doc for the Golden State Warriors.) He said "When you can hop 50 times on the formerly broken ankle/foot with no pain and then go up and down on your tip toes with no pain, you are ready." Hmm. He said "let's try it now." Ok…OW!!! ""He said I guess not today." Thanks Dr. Obvious. He also said high heels are bad for me so what does he know anyway…
SO…since it is my birthday on Saturday AND since I WILL wear high heels again…soon! I bought a cute pair :) And look – they are platform-ey espadrilles so they have to be better for me than regular high heels so a good gateway heel back to my normal ones :) Plus very summery! I was actually inspired to buy a cute new summery espadrille by a pair Jennifer Aniston wore in "Just Go With It".
Since they were not on sale and a bit costly for sandals in my opinion (although 7.5% back for going through ebates), I was almost hoping I wouldn't like them IRL as much as in the picture. No such luck. Thanks to the wonderfulness of Endless.com, I ordered them yesterday afternoon and they arrived this AM. I just tried on the right foot one (non-broken side) and OMG they are so cute!!! Just imagine with tan, cutely-pedicured feet! Sigh….keepers.
So now I just have to work on my jumping and tippy-toe exercises :)
Happy Birthday to me! :)
OMG Update! Jen A actually has these same shoes!!!!!!!!!!!!!!! :) I knew they looked like something she'd wear! Now if I can only get my legs that tan :)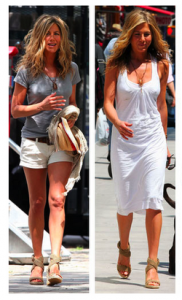 http://www.vivafashionblog.com/2011/03/look-for-less-stuart-weitzman-alex.html
No Comments :(