It's unofficially winter so I thought it was time to break out 1 of my big Staub pans and make something winterey! Decided on soup for this weekend since it has been snowing and raining all week…literally all week…today was the first day it stopped raining for more than a few minutes. #notcomplainingthough #drought #wouldprefersnow
Dug through my box of recipes as I knew I had a good one (well, sounded good on paper) for chicken and rice soup. Found it!
INGREDIENTS:
6 cups of chicken stock
2 cups of shredded chicken breats (I actually used both light and dark)
1/4 c up Vermouth
1/2 cup heavy cream
1 tbsp olive oil
2 carrots – peeled and chopped
2-3 garlic cloves – minced
2 cups white rice, cooked
1 cup wild rice, uncooked
1/4 cup flour
1 cup chicken broth
4-5 basil leaves, minced
Several dashes of celery seed (since I didn't use celery)
handful of fresh parsley, minced
salt and pepper
(original recipe also had 4-5 green onions and 3 celery stalks – blech)
Prepare white rice according to the package directions and set aside
In a large, heavy-bottomed pot add 2 tbsp olive oil and warm over medium heat. Add garlic, carrots (and celery and green onion if using) and saute for about 5 minutes.
Add 6 cups of chicken stock, uncooked wild rice, cooked white rice, chicken and herbs and simmer for at least 20-30 minutes.
In a small bowl mix the flour in the 1 cup of chicken broth making sure the flour is thoroughly blended with no lumps. Slowly add the flour/broth mixture to the soup. Simmer until soup thickens (about 15 mins or so.) If it does not thicken enough, take a little broth out of the pot and mix in another tbsp of flour and slowly add back to soup. Keep simmering until soup reaches desired consistency.
Add the heavy cream and vermouth. Season with salt (I used Himalayan pink salt because duh…pink!) and pepper and add minced parsley. Simmer 10 minutes and serve!!
Mmmmmmm….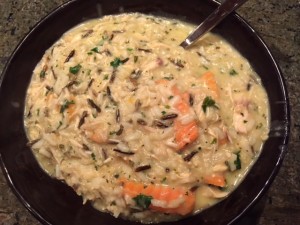 p.s. I tasted the Vermouth….GAH! Don't think I could channel Robin channeling Mork channeling Julia with that….
p.p.s I paired my soup with a glass of Piper Sonoma Rose Brut – Delicious! (obvs)
One Comment