Mix:
1/2 stick of unsalted softened butter
1 cup chopped fresh parsley
2 chopped garlic cloves
Juice from 1 full lemon
1 lb peeled/deveined large shrimp
shredded parmesan
red pepper flakes
sea salt
pepper
Fold in heavy duty foil making a "packet" and grill (pre-heated) over high heat for 8-9 minutes.
Delicious.
In the winter, I'd toss with some pasta. But today I served with a little bit of bread to just soak up the yummy juices. Seriously easy and seriously yum. Tihs recipe served 2 so easy to add more for larger parties. Although I'd probably make an additional foil packet vs making this one larger.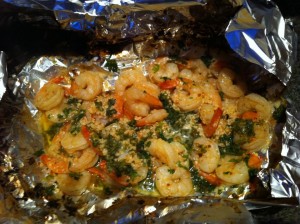 4 Comments